This is our opportunity to re-configure. Glastonbury's dilemmas are part of the wider dismantling and disassembling of the BIG!  Aspects of life that no longer serve us.
I first went to Glastonbury in 1983 and stopped going around 20 years ago. It was a glorious weekend, blue skies from start to finish, a leftfield musical line up to die for - King Sunny Adé and UB40 as headliners, Moving Hearts, Curtis Mayfield, The Chieftains, Denis Brown, Dr John, Aswad, Tom Paxton and Melanie amongst others. It was the first time the festival required an official license to take place.
The festival changed my life in many respects, opening up a sense of the power of the community gathering and a shared experience in a field, a celebration of life, a glimpse into a more utopian world.  It was fitting that the cynical, hipper-than-thou NME that year deigned to describe the revellers as "sun-soaking slabs of human tripe".
The annual pilgrimage to Glastonbury became one of the highlights of the year, and the festival itself had made a huge impact on me since my first visit in 1983 when the numbers must have been little more than 30,000.
Two years later, my friend Andy Kershaw invited me to DJ with him on the Pyramid stage at Glastonbury for the first time, in what was to become an annual fixture for several years, which was very exciting. Together with his girlfriend at the time, Anna, we headed down the A303 with a couple of boxes of records, quite unprepared for one of the wettest summer weekends on record. There, I witnessed a mug slinging match between The Pogues and the Glastonbury audience, Alexei Sayle, compere for the weekend, donating half his rider to us to drink, and artists such as Paul Weller, Flaco Jimenez, Elvis Costello and Ian Dury and The Blockheads at close quarters. But the biggest thrill was putting on my records in front of 50,000 people on the Pyramid Stage, especially when Andy sneaked off for a leak or a pint and I was able to slip on something I might not have opted to play in his company such as The Oyster Band or Blowzabella.
With Andy and Anna in 85 and 86 at The Pyramid Stage. The record I am playing is Los Lobos.
Andy and I later went on start our own long-running weekly club in Crouch End at the end of the 90s, which we called Zig It Up, playing a diet of global dance tunes to a crowded basement full of people every Wednesday in The Kings Head. In the meantime, my late 80s mission was to do my bit to help ensure that roots music found its rightful audience and this naturally led me to start Cooking Vinyl, my first self-employment project in 1986.
Glastonbury 1987 probably provided me with my biggest Glastonbury highlight - when Michelle Shocked, the singer-songwriter I had recorded on a walkman the previous year in Texas came over to promote her Texas Campfire album (the results of the raw cassette recording) which had been at the top of the Independent album charts all year and suddenly found herself playing to packed stages (Womad and Pyramid) to rapturous applause. By now, the NME had caught up with the festival zeitgeist and I recall then-news editor Terry Staunton's review citing her as his highlight of the weekend. Certainly the memories of that Womad stage early evening show will stay with me forever. People were literally climbing up in the trees to get a view of her, so packed was the space. 
The Big Chill had just the one foray into Glastonbury - in 1995, just weeks before our own first event kicked off in The Black Mountains and it was a mixed bag. It was hosted in the Green Futures Field which wasn't without its problems, given that we only had a few batteries and pedal power to keep the sound system and limited lighting going through the night. That year we weren't given any artists tickets either, with our helpful Green Futures people suggesting we could all "talk our way" through security at the gate.  That year, many were estimating a highly-illegal 500,000 on site, many of them fence jumpers or blaggers. It was a situation that had to change and would within a couple of years. It was also my last full Glastonbury apart from a brief foray with my kids the first year they erected the big fences when it was almost deserted. 
So all in all, quite a legacy. It was the early Glastonbury festivals that later inspired me to start my own outdoor event and eventually The Big Chill and Campfire.
---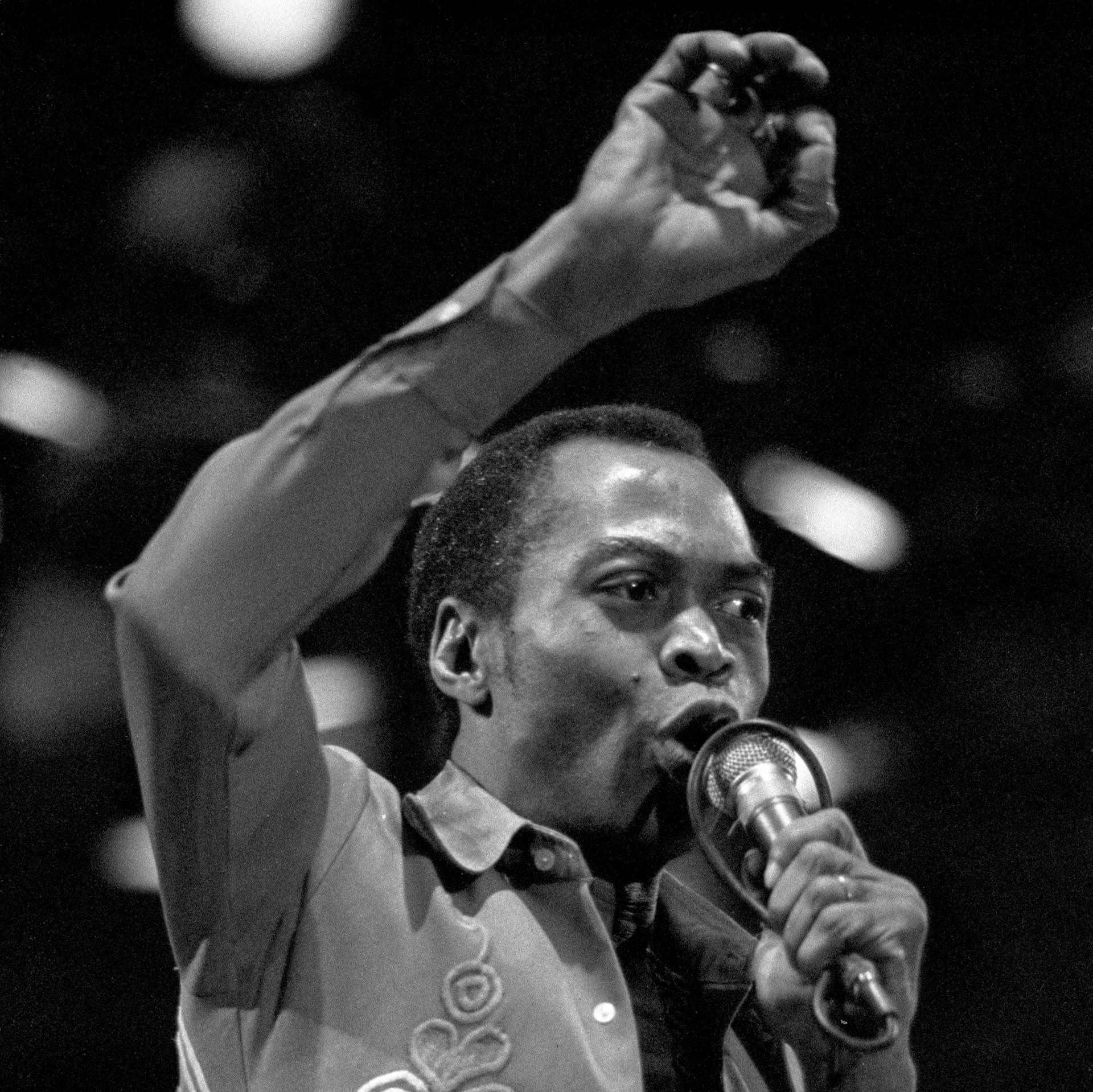 FELA KUTI - 1984 concert was one of the all-time highlights
---
As for the future of Glastonbury and festivals in general, in fact any large gatherings, who knows where we will be in a year's time. Michael and Emily Eavis are already suggesting that they will probably be bankrupted if they can't run next year. Certainly, deep adaptation is needed for all.
I noted in today's Guardian that one of the Eavis family's plans to is collaborate with Melvyn Benn, one-time Glastonbury co-promoter who now runs festivals including Reading and Leeds, Download, Latitude and Wireless, around a testing scheme that will allow ticket holders on site after they've been shown to be virus-free.
The Guardian reports:
"We'll piggyback on to that scheme if we can … that's a last resort I think," Michael said, adding that he was hopeful for a vaccine.
Emily said conversations with Benn and other promoters were still informal, "to compare notes", but it was "too early to say which options we will take. We will certainly do whatever it takes to put on a safe, successful event."
Benn confirmed he had spoken with Michael Eavis, and said his scheme would involve using an NHS-linked tracing app, that ticket holders would show at an extra security gate before entering the festival. He heralded the "huge step forward" of saliva-based self-testing kits, and said: "I'm 100% confident about next year, literally 100%, because the government will successfully pursue one of three options: cure, vaccine or testing," he said, adding that app-based entry to events "will become the new norm. This isn't just about Glastonbury, it'll be the norm if you want to go to the movies or Pizza Express. I do think of it as plan B – plan A is a vaccine or cure."
He acknowledged that some potential attendees might still be worried. "Those who are vulnerable will question whether it's the right thing to do to go into one of those full, sweaty, big tops. But the vulnerable are a relatively small number of people. I don't see any sign of fit, able people, young or middle-aged, losing any confidence, about the outdoors in particular."
The prospect of yet another layer of security on top of what already feel like draconian security measures at large festivals,  feels to me like the accent now has to be on low-impact, low-number more intimate gatherings. Interpret Benn's future vision as you will and his views on the vulnerable amongst us, but it's clear that Covid (and the other infectious diseases we have not yet met) has brought the way we see future gatherings even more to the fore and what models we embrace.  As you will see here:
---
---
This is our opportunity to re-configure. Glastonbury's dilemmas are part of the wider dismantling and disassembling of the BIG!  Aspects of life that no longer serve us.